About the Animal Inn
& Wellness Center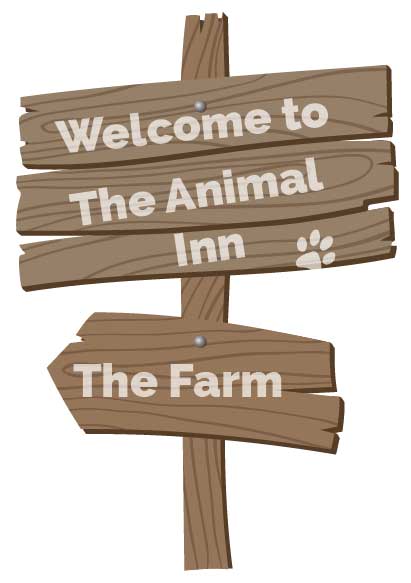 The Animal Inn and Wellness Center is located on a 30-acre farm, centrally located on San Juan Island. Sheep, chickens, a goat (Mr. Willy) a llama (Oka) and our resident cats, Suki and Big Boy call the farm home. Our friendly beagle Oliver, will often greet you as you pull up the drive. Believe us, you will hear his sweet baying!  
The scenic property lies in the shadow of Mt. Dallas, the highest point on San Juan Island at around 1,000 ft. The property is a mix of open fields, pastures, hills and wooded areas. We have a nice trail system in which we walk the dogs that like to explore. Wildlife abounds with frequent sightings of deer, red-tailed hawks, eagles and fox.
Over the years we have cared for family pets with many long-term clients boarding generations of pets. We consider it an honor and privilege to be entrusted to care for your furry family members.
The Animal Inn and Wellness Center is located on a 30-acre farm. The surroundings provide visual, olfactory and auditory enrichment for the pets that lodge with us.
The Animal Inn started as a boarding kennel in 1972. The property was once part of a larger farm and dairy which began in 1906. It was known for years as the Sweet Pea Dairy. The kennel has come a long way since 1972. In its early years, it was a self-serve facility where you left your payments in a money box! The facility was expanded and modernized in the 1990's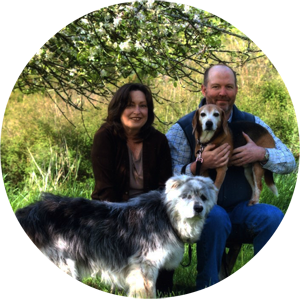 Michelle and Kevin Loftus
Dr. Michelle Loftus DVM and Kevin Loftus first visited San Juan Island in the year 2000 and immediately felt the tug of this beautiful part of the world. The island became home in 2005 when they purchased the Animal Inn. Upon ownership, limited veterinary services were incorporated into our service offerings. Our business is also our home – we live on the property. We love what we do and where we live, our own special piece of paradise. 
Dr. Michelle Lofts DVM, a veterinarian with over 30 years of experience, oversees the general health of lodging pets, as well as their requested special service needs. Appointments for special services may also be made for pets that are not lodging with us. She is a native Texan, a proud graduate of Texas A&M University and will go to great lengths to procure real Texas barbecue.
Kevin Loftus is a native of the Chicago area hailing from the South Side. That means he is a White Sox fan, not a Cubs fan, sorry. After graduating from Northern Arizona University with a business degree, a corporate career path beckoned in Dallas, TX. He discovered the San Juan Islands through a passion for bicycling. Kevin enjoys local history and tending to the kennel and farm.
Raina
Raina is our longest tenured employee at nearly ten years. Growing up on the island Raina got an early start working with dogs, cats, rabbits and many other animals at home and in 4-H programs. As a young adult she spent time working on farms and volunteering at the ASPCA while spending her free time exploring local woods and beaches with her Lab mix Elke. The Animal Inn was a natural fit, and through the years she has had the pleasure of meeting and caring for so many unforgettable pets!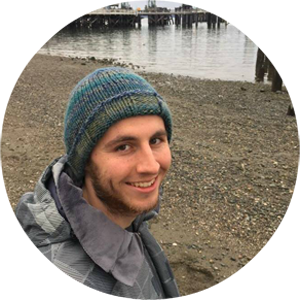 Will C.
Will C. spent his younger years growing up on San Juan, until he eventually moved elsewhere with his family. After living in Montana, Oregon, California, and various parts of Washington state, he's settled back down on the island, realizing he took much of its life-style for granted. He's happy to be back, and even happier that he is getting to spend his days with the animals of the island and beyond. He brings a great deal of love and care to every pet that stays at the Animal Inn.
William R.
William R. grew up on Whidbey Island and originally made his way out to San Juan Island working in the summer as a kayaking and bicycling guide. He loves this island and all the special places near and around the water to watch the sun set. William grew up on a small farm with sheep, a horse, chickens, a cat and a dog. He has fond memories of playing with puppies all around his house. William loves to spend extra time with pets walking or playing in the field. He is excited to care for your pet while they stay at the Animal Inn.
Lucas
Lucas hails from Munich, Germany. Lucas may teach your pet a few words of German while they are here. He received his certification as a dog trainer in Berlin in 2014. His favorite activity is giving dogs and cats their play times. He also enjoys his coworkers and spending time with his family.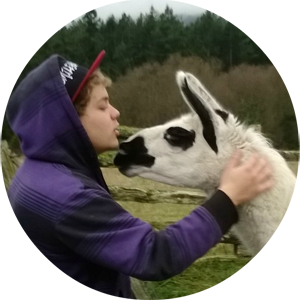 Mark
Mark performs many functions and never met a cat or dog he didn't love. Mark has also helped extensively on the farm and is quite skilled at building fences for our pastures. He can pound t-posts into the ground like a knife through butter. Mark is also an aspiring chef and is a cook for a local Mexican restaurant.
Animal Inn & Wellness Center
25 Boyce Rd, Friday Harbor, San Juan Island, WA
info@animalinnwellness.com
360-378-4735
Monday through Friday: 8:00 am - 6:00 pm
Saturday: 8:00 am - noon and 4:00 pm - 6:00 pm
Sunday: 8:00 am - 9:00 am and 4:00 pm - 6:00 pm
After Hours Emergency: 360-378-4738
Animal Inn & Wellness Center
25 Boyce Rd, Friday Harbor, San Juan Island, WA
info@animalinnwellness.com
360-378-4735
Monday through Friday: 8:00 am - 6:00 pm
Saturday: 8:00 am - noon and 4:00 pm - 6:00 pm
Sunday: 8:00 am - 9:00 am and 4:00 pm - 6:00 pm
After Hours Emergency: 360-378-4738